I've been on a lipstick kick lately. I used to always have one or maybe two lipsticks or glosses that I'd use, but for the most part I'd use the same one every day. Well, I've recently realized how fun it is to change your look completely by wearing a different lip color. I'm really into the pink shades right now, and a good product really makes all the difference.
I've been a fan of the CoverGirl NatureLuxe glosses for a while. They're inexpensive and moisturizing, and they have a great line of shades. I keep one in my purse for touch ups, and to use when my lips feel dry. My favorite shade is Thistle.
I recently discovered some of the higher end lipsticks and glosses, and they are amazing!! I especially loves Nars and MAC products. I currently own MAC's Snob lipstick and Nars' Moonfleet gloss.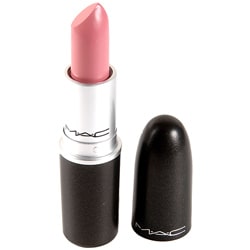 They are both gorgeous shades, and I love wearing them together. I have lots more Nars and MAC products on my wishlist, and I can't wait to try more and wear lots of different shades!